Contents
No reservation is necessary to visit the museum. Please note that the following measures have been adopted to prevent the spread of Covid-19. Due the changing nature of the pandemic, we ask that visitors acquaint themselves with the most recent Covid-19 guidelines issued by their local authorities prior to their visit.
■ Requests to Visitors
Please refrain from visiting the museum if:
— You feel ill or have a body temperature of 37.5℃ or above;
— You have returned from abroad or visited an infected area within the past 14 days;
— You have had close contact with an infected person.
A body temperature scan will be conducted on all visitors prior to their entrance to the museum.
Visitors are requested to wear a mask and disinfect their hands during their visit.
We ask that visitors observe cough etiquette.
To maintain a safe environment, admission to the museum may be restricted.
The museum retains the right to eject persons who refuse to comply with these requests.
These measures are designed to ensure a safe and enjoyable time for all visitors. With this goal in mind, we apologize for any inconvenience you may experience and thank all visitors for their kind understanding and cooperation.
■ Measures Implemented by the Museum
Monitoring to ensure proper temperature and humidity levels and adequate ventilation within the galleries.
Availability at all times of alcohol disinfectant at the museum entrance and other locations and liquid hand soap in the washrooms.
Regular cleaning and disinfecting of areas within the museum.
Monitoring of body temperature and physical condition of all museum staff at the start of their shift and the mandatory wearing of masks.
Ground markings at intervals of 2 meters to serve as a guide for social distancing during queuing and crowded conditions.
To prevent congestion in the shop or cafe, restrictions may be placed on the number of visitors allowed to enter or the amount of time spent inside.
The installation of partitions at the ticket booth, information counter and in front of the cashier in the museum shop and cafe to protect against airborne spray.
Notes
* The open-view storage tour has been temporarily suspended.
* The museum may be subject to temporary closure, depending on developments on the national and prefectural levels. Furthermore, the measures described above may be revised to reflect those developments. All changes will be posted on the museum website.
Hours

9:30 am – 4:30 pm (last entry 4:00 pm)

Closed

Thursdays (except on holidays, during the month of August, December 29, 2022), between exhibitions and January 1

Admission

General 1,100 yen / Students 700 yen [high school and university] / 500 yen [elementary and junior high school]
Free for Hara Museum ARC members

Combination ticket for Hara Museum ARC and Ikaho Green Bokujo Ranch: General 1,800 yen / Students 1,500 yen (high school and university) / 1,400 yen (junior high) / 800 yen
Note: The sale of combination tickets will be temporarily suspended on May 3 (Tues.), 4 (Wed.) and 5 (Thu.) 2022.
* For residents of Gunma Prefecture, admission is free for elementary and junior high school children every Saturday during the school term. For holders of the Guchoki Passport, 200 yen discount per ticket for up to five persons.
Floor Map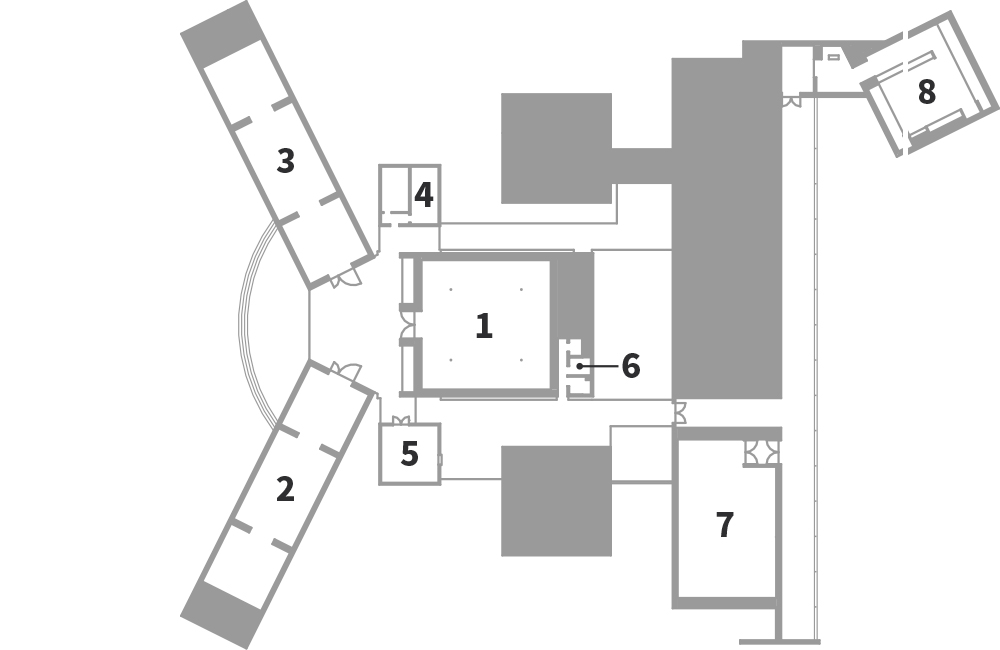 Main gate
← Café d'Art
  Ticket booth
Parking →
1:Contemporary Art Gallery A
2:Contemporary Art Gallery B
3:Contemporary Art Gallery C
4:Toilets
5:Museum Shop
6:Locker / Toilets and wheelchair-accessible toilet
7:Open-view Storage
8:Kankai Pavilion
Requests to Visitors
To create a safe and secure environment for the enjoyment of art, we ask that visitors abide by the rules listed below. Thank you for your understanding and cooperation.
Do not touch the artwork on display.
Do not use cameras or cellphones to photograph in areas with the "No Photography" pictogram.
Photographing for commercial purposes is not allowed without prior permission.
Do not eat, drink or talk on cellphones in the exhibition rooms.
Do not use ballpoint pens, fountain pens or other writing instruments that use ink.
Smoking is not allowed anywhere in museum.
The use of toys is not allowed anywhere in the museum.
Dogs, cats and other pets are not allowed inside the museum.
Do not bring umbrellas or oversized hand luggage into the exhibition rooms. (Please make use of the umbrella stands, coin-refundable lockers or baggage storage service at the Information Desk.)
There are no beverage vending machines or water fountains within the museum. Beverages may be purchased at the Cafe d'Art or brought personally by yourself. Those who bring beverages in PET bottles should keep them stored in a plastic bag.



Regarding all other matters, please follow the instructions of the museum staff.



For Visitors Using Wheelchairs
Hara Museum ARC is a barrier-free facility.
Wheelchairs can be used inside the museum, Café d'Art, and the Museum Shop.
Wheelchair-accessible restrooms are located inside the museum and in the Café d'Art.
Two wheelchairs are available to be lent out.
Five parking spaces are available for those with physical disabilities.
For Visitors with Small Children
Small children should be held by the hand while inside the museum.
Baby strollers are allowed within the museum, Cafe d'Art and Museum Shop.
Diaper-changing stations are available in the women's and wheelchair-accessible restrooms.
For further details or inquiries, please contact the museum.
tel:0279-24-6585 /
e-mail:arc@haramuseum.or.jp