Contents
Arata Isozaki at the Kankai Pavilion
Dates : September 13 (Friday) – October 23 (Wednesday), 2019
– A Response by Arata Isozaki to the Continuing Genealogy, from the Japanese Art of Rokuro Hara, whose sobriquet was "Kankai," to the Contemporary Art Collection of His Great-grandson Toshio Hara –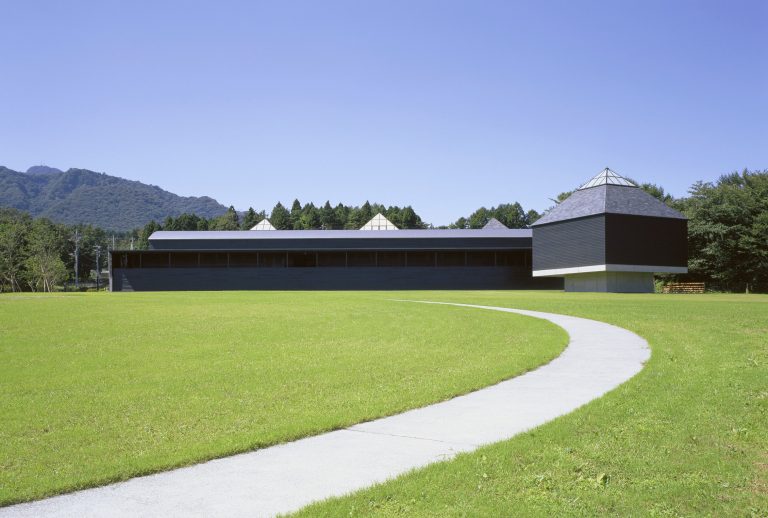 Exterior view of Kankai Pavilion Photo: Sadamu Saito
The sharp angular shapes and unifying shades of black of its buildings are what characterizes Hara Museum ARC. We are happy to announce an exhibition by the architect who designed them – Arata Isozaki. Isozaki stands out as one of Japan's foremost architects and a designer of many museums in Japan and abroad. 2019 has been a milestone year for Isozaki. Not only because it is the year of his 88th birthday, a very auspicious age in Japan, but also because of his receipt of the Pritzker Prize, commonly known as the "Nobel Prize for architecture."

To celebrate these notable events, three special exhibitions have been planned for 2019 and 2020 at three Japanese museums that are part of Isozaki's architectural legacy: Hara Museum ARC, Art Tower Mito and the Nagi-cho Museum of Contemporary Art. Each show, supervised by Isozaki himself, will be unique, yet share the same theme: milestones in the career of a master architect. Kicking off this endeavor will be the Kankai Pavilion where Isozaki will trace his relationship with the Hara Museum through various projects completed over the years, including the buildings at Hara Museum ARC and the Uji-An, a teahouse (built in 1991 adjacent to the Hara Museum in Tokyo).

Arata Isozaki Architect, Born in 1931 in Oita, Japan.
Selected Architectural Projects
Oita Prefectural Library (Oita, 1966), The Museum of Modern Art, Gunma (Gunma, 1974), Tsukuba Center Building (Ibaraki, 1983), Museum of Contemporary Art, Los Angeles (USA/1986), Hara Museum ARC (Gunma, 2008), Palau d'Esports Sant Jordi (Spain/1990), Art Tower Mito (Ibaraki/1990), Nagi-cho Museum of Contemporary Art (Okayama/1994), Akiyoshidai International Art Village (Yamaguchi/1998), Ceramics Park Mino (Gifu/2002), Shenzhen Cultural Centre (China/2007), Qatar National Convention Center (Qatar/2011), Shanghai Himalayan Center (China/2013) and others.

Curatorial or Other Projects
Electric Labyrinth at the XIV Triennale di Milano (1968); MA: Space – Time in Japan (conceived and directed by Arata Isozaki) (France and Japan/1978-81); Japanese Pavilion, International Architecture Exhibition (recipient of the Golden Lion Award) at the Venice Biennale (1996); China International Practical Exhibition of Architecture (coordinated by Arata Isozaki), (Nanjing /2003) and others.
Dates

September 13 (Friday) – October 23 (Wednesday), 2019

Venue

Hara Museum ARC Kankai Pavilion

Hours

9:30 am – 4:30 pm (last entry at 4:00 pm)

Admission

General 1,100 yen, Students 700 yen (high school and university) or 500 yen (elementary and junior high), Free for Hara Museum members, half price for those over 70
*Visitors to the Kankai Pavilion can view the on-going exhibition IZUMI KATO – LIKE A ROLLING SNOWBALL as well.