Contents
Praises and Prayers—Selections from the Hara Rokuro Collection
Dates : Part I: October 6 (Saturday) - November 21 (Wednesday), 2018
Part II: November 23 (Wednesday) - January 14 (Monday/National Holiday), 2019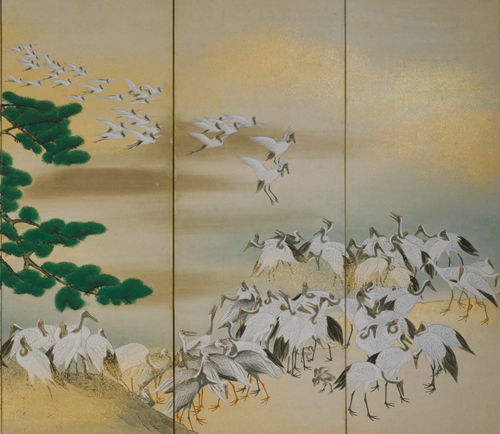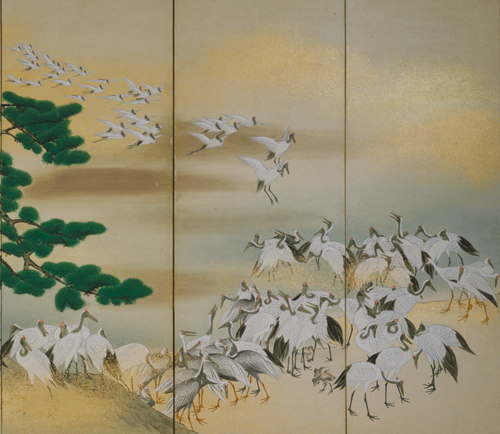 Mori Tetsuzan, A hundred cranes, Edo period, 19th century (Part 1)
This two-part exhibition features works from the Hara Rokuro Collection centered on two themes: praises and prayers. The first part, Praises, is the celebration of life as represented in works by Mori Tetsuzan and Nagasawa Rosetsu, disciples of Maruyama Okyo, which appear together with a preparatory sketch made by Okyo for his masterpiece Landscape of Yodo River. Mori Tetsuzan's A Hundred Cranes, a spectacular and powerfully composed work that features two popular symbols for long life in Japan: the crane and pine tree.

The second part, Prayers, is the pictorial evocation of hope as seen in works of the Chinese painter Shen Nanpin, a greatly influential figure in Japanese painting during the middle part of the Edo era. Symbols for longevity–the crane, pine tree, orchid and rose–are also featured in his uniquely composed paintings as auspicious symbols of longevity. Part 2 also includes Scene of mournful assembly at the death of Buddha, painted during the Momoyama period, a work that is literally composed around the act of prayer.
Hours

9:30 am – 4:30 pm (last entry at 4:00 pm)

Closed

Thursdays (except January 3), December 4-7, 11-14 and January 1 *Subject to temporary closure in the event of severe weather.

Admission

General 1,100 yen, Students 700 yen (high school and university) or 500 yen (elementary and junior high), Free for Hara Museum members, 10% discount for a group of 20 or more, Combination ticket for Hara Museum ARC and Ikaho Green Bokujo (except during Golden Week): General 1,800 yen; Students 1,500 yen (high school and university) or 1,400 yen (junior high), 800 yen (elementary), half price for those over 70, discount for groups of 20 or more
*Visitors to the Kankai Pavilion can view the on-going exhibition in the contemporary art galleries as well.
*Children must be accompanied by an adult.
*For residents of Gunma Prefecture: Free admission for elementary and junior high school children every Saturday during the school term/200-yen-discount on admission for up to five persons upon presentation of the Guchoki Passport.
*Visitors to the contemporary art galleries can view the on-going exhibition in the Kankai Pavilion as well.