Contents
[Event at the Museum Shop and Café d'Art] SHOP@CAFE Vol.15 Painting Maniac Bunta Inoue
Date(s) : Part I Blue: July 7 (Fri.) - September 3 (Sun.), 2023
Part II: September 9 (Sat.) - November 1 (Wed.), 2023
Part III: November 3, 2023 (Fri.)-January 8 (Mon./national holiday) , 2024
Time : Cafe d'Art 10:00 am-4:30 pm, Museum Shop 9:30 am-4:30 pm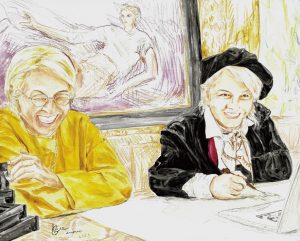 Notice from the Museum Shop and Café d'Art
SHOP@CAFE is a continuing series that offers for sale art that adds vibrancy to daily life under the catchphrase "Living with Art." For this 15th installment, we are pleased to present the work of the painter Bunta Inoue, who began art making in Ikaho from last year. Inoue's work will be presented at Café d'Art and the Museum Shop in three differently themed seasonal parts, one in the summer, fall and winter, featuring highly imaginative works inspired by nature and the environment, beauty, and love.
For Part I, with "Blue" as the keyword, paintings, sketches and prints provided a cool ambiance to the cafe in the summer. Part II, whose theme is "Treasure," will feature works that depict Inoue's beautiful memories of the earth and the four seasons, as well as days spent with his friends HYDE, Kiyohiko Shibukawa and Susan Rockefeller. At the museum's cafe, located on a highland bathed in autumn colors, we invite you to catch a peek into Inoue's "heart's memory."

Before they fade, I want to capture on canvas my memories of beautiful nature and the joyous feeling and light during the time I spent with my friends HYDE, Kiyohiko Shibukawa and Susan Rockefeller. (Bunta Inoue)

Outline
Title: SHOP@CAFE Vol.15 Painting Maniac Bunta Inoue
Venue: Cafe d'Art and The Museum Shop at Hara Museum ARC
*Admission to the museum is required to access the Café d'Art.
Period: July 7, 2023 (Fri.) – January 8, 2024 (Mon./national holiday)
Part I: Blue July 7 (Fri.) – September 3 (Sun.), 2023
Part II: Treasure — The Heart's Memory September 9 (Sat.) – November 1 (Wed.), 2023
Part III: New Year Around the World November 3, 2023 (Fri.)-January 8 (Mon./national holiday) , 2024
Hours: Cafe d'Art 10:00 am-4:30 pm, Museum Shop 9:30 am-4:30 pm
Closed: Thursdays (open on national holidays, December 28 and January 4), January 1 and during change of exhibit.

SHOP@CAFE Vol.15 Painting Maniac Bunta Inoue Part I Special Dessert 1,300 yen *Currently discontinued.
This special dessert made of blue sorbet, vanilla ice cream and rare cheese cake with blue fromage sauce is a refreshing treat to the eyes and the palate.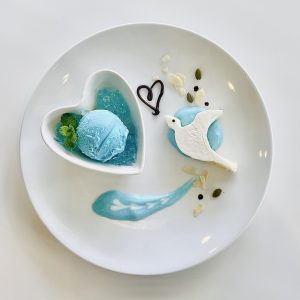 Bunta Inoue
Inoue embarked on his artistic career in 1998 after studying under the painter Kaneko Kuniyoshi. His work includes Japanese-style painting, oil painting, installation art and calligraphy. Although active in many fields, including doing the character design and art supervision for NHK's puppetry drama TV series The Three Musketeers and Sherlock Holmes, both written by Koki Mitani, Inoue has continued to dedicate himself to painting, like the other self-proclaimed "Painting Maniac" Katsushika Hokusai.

Takehisa Yumeji and Inoue Bunta: Love and Dreams that Transcend Time and Space is being held for one year starting this spring at the Takehisa Yumeji Ikaho Memorial Museum (in the Minatoya Salon on the 3rd floor of the main building "Kurofune-kan").