Contents
Lecture by Mitsuru Uragami
Date(s) : April 9 (Sunday), 2023
Time : 14:00 - 15:30 (Door opens at 13:30)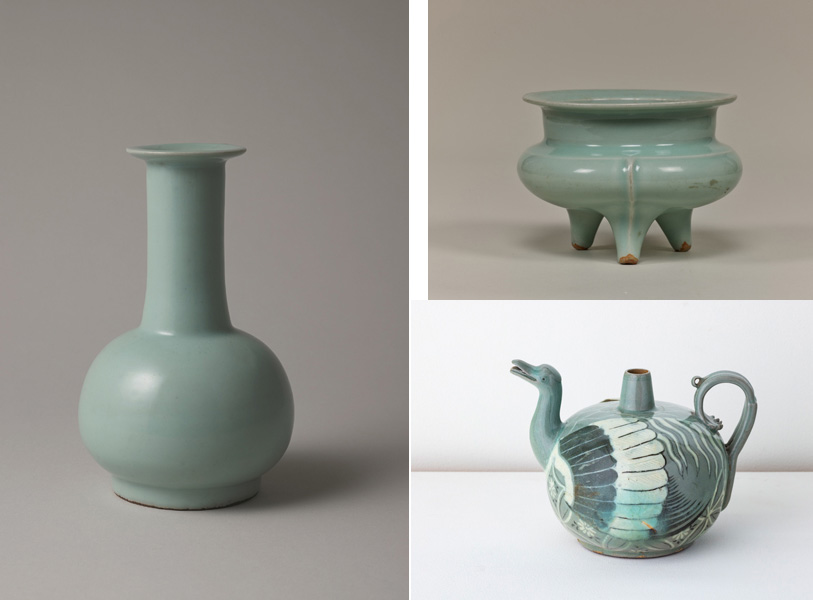 Left: Celadon vase with long neck on globular body, Southern Song dynasty, 13th century, Longquan ware
photo by Norihiro Ueno (on display from March 24 to April 26, 2023)
Top right: Celadon glazed incense burner, Song dynasty, 10th-13th century, porcelain (on display from March 24 to April 26, 2023)
Bottom right: Celadon water pitcher vase, Goryeo dynasty, 10-14th century, photo by Shinya Kigure (on display from March 24 to mid-June, 2023)
Mr. Mitsuru Uragami, an art dealer and specialist in East Asian antiques and owner of Uragami Sokyu-do Co., Ltd., will give a lecture at the museum where the Celadon vase with long neck on globular body (National Treasure) and Celadon glazed incense burner are on display.
*The lecture will be held in Japanese.
Date & Time

Sunday, April 9, 2023 14:00 – 15:30 (Door opens at 13:30)

Venue

Cafe d'Art at Hara Museum ARC

Fee

1,000 yen for Hara Museum ARC members and up to 1 accompanying guest (or for a Friends/Single member alone) / 1,500 yen for general visitors (museum admission is separate)

Reservations

Please send an email to "member@haramuseum.or.jp" with the following information:
・Name and Hara Museum ARC membership number
・Contact number (a cell phone number that can be reached on the day of the event)
・Number of participants

*Your reservation can be considered confirmed when you receive a reply from Hara Museum ARC. Please contact us if you do not receive a reply within one week.