Contents
Summer Vacation Workshop: Let's Make Art Fans!
Date(s) : Corridor space at Hara Museum ARC
Time : Friday, July 29, Saturday, July 30 and Sunday, July 31, 2022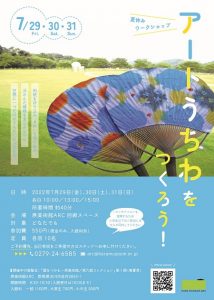 In this workshop, participants will make their own original art fans by folding and dying Japanese paper in beautiful colors.

Dates: July 29 (Friday), 30 (Saturday) and 31 (Sunday), 2022
Time: Three sessions a day at 10:00,13:00 and 15:00; time required: about 40 minutes
Venue: Corridor space at Hara Museum ARC
Target: All are welcome to join in. *Please note that because the workshop involves the use of scissors and an electric iron, children who are of elementary school age or younger must be accompanied by an adult.
Capacity: 10 people each time *Those with reservations have priority.
Participation fee: 550 yen (payment in cash only).

Reservation: Please apply by sending an email to arc@haramuseum.or.jp
*Visitors without reservations may also join the workshop on the day of the event, depending on space availability. Please ask a staff member for details.