Contents
Roger Turner x Koichi Makigami x Yumiko Tanaka Live at the Hara Museum
Date(s) : December 7 (Saturday), 2019
Time : 18:30 – 20:00 (museum doors open at 18:00)
Roger Turner, the internationally active improvisational drummer and percussionist from Britain, will come to perform at the Hara Museum for the first time in six years. Over the years, Turner has won a large following with a sound that combines explosive power with delicacy and rich emotion. Joining him on stage are Koichi Makigami, a vocalist who manipulates musical language in a surrealistic way, and the shamisen player Yumiko Tanaka known for her avant-garde performances that also delve deeply into tradition. We invite you to enjoy this unique trio that has been brought together especially for the Hara Museum.
Roger Turner (drum/percussion)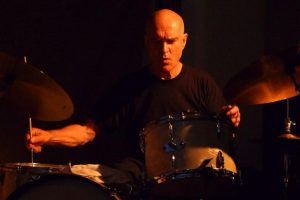 Turner, who has been working as an improvisational percussionist since the early 1970's, is involved in a remarkable range of activities, from solo performances to collaborations with contemporary artists in fields as varied as experimental rock, open-form song, avant-garde dance, film and other creative endeavours. He is a frequent participant in workshops and jazz-based ensembles. In previous collaborations, he has worked with European and international artists that include Annette Peacock, Phil Minton, Cecil Taylor, Masahiko Satoh, Charles Gayle, Lol Coxhill, Derek Bailey, Alan Silva, Keith Rowe, Evan Parker, Josef Nadj, Min Tanaka, Toshinori Kondo and Axel Dorner. In 2013, he gave a vivid performance at the Hara Museum together with Yoshihide Otomo. https://www.turners-site.com/
Koichi Makigami (vocal)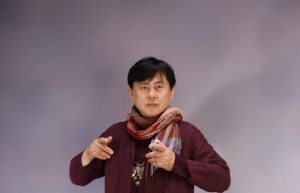 Makigami was the lead singer of Japan's critically acclaimed rock group HIKASHU which was formed in 1978. In addition to song writing, he travels the world giving solo or collaborative performances with his voice, the theremin or Jew's harp as his instrument. He is Japan's foremost practitioner of khoomei, or Tuvan throat-singing. For the last 20 years, he has served as a jurist for the Traditional category of the International Khoomei Contest and was the winner in the Contemporary category in 2017. Each year since 1997, he has organized Tuvan throat-singing activities that invite musicians from Tuva and Altai to Japan for international exchange. Makigami is a player of the world's first electronic musical instrument, the theremin, having established a style that departs from the conventional. He studied the Jew's harp under the inventor Robert B. Zagrezinov of the Republic of Bashkortostan. Having mastered a variety of types of Jew's harp, he went on to spark a Jew's harp boom in the country. In addition to being an invitee to various music festivals around the world, Makigami is a producer of festivals and performance series. He composed the stage music for Miwa Yanagi's The Wings of the Sun performance.
http://www.makigami.com/
http://www.makigami.com/bio.html
Yumiko Tanaka (shamisen/electric taishokoto/vocal)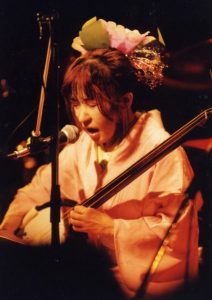 Tanaka studied gidayu recitation with the gidayu recitation artist and Living National Treasure Komanosuke Takemoto and was a disciple of the late Kinshi Nozawa, the bunraku (Japanese puppet theater) gidayu shamisen master who was also a Living National Treasure. As a disciple to the Showa-era master, the late fourth-generation Takemoto Koshijidayu, she received the name Tomi Tsuruzawa and became a performer within the world of classical performing arts. She would later diversify her repertoire to include diverse and experimental activities ranging from improvisational and contemporary music performances in Japan and abroad mainly playing the shamisen to the scoring of music for the theatre and movies. Her past collaborations with Japanese and foreign musicians include Carl Stone, Ned Rosenberg, John Russell, Accel Donor, Yuji Takahashi, Akira Sakata, Keiji Haino, Yoshihide Otomo, Kazuhisa Uchihashi, Seiichi Yamamoto, Motoharu Yoshizawa, Sabu Toyozumi and Yoshimitsu Ichiraku. She often appears in movie and stage productions, and has earned a high reputation for her performances at festivals throughout the world. In 2009, she became a general holder of Important Intangible Cultural Property as a member of Gidayu-bushi Preservation Society. She received an MA degree in aesthetics and art history from Tokyo University of the Arts and was formerly an associate professor at Hyogo University of Education.
https://www.yumikot.com/
http://www.ftarri.com/festival/2015/ytanaka-e.html
Date

December 7 (Saturday), 2019 18:30 – 20:00 (museum doors open at 18:00)

Venue

The Hall at the Hara Museum of Contemporary Art

Tickets

Regular 4,000 yen (includes museum admission); Hara Museum members and their guests 3,500 yen
*Reservations are required. Payment for tickets should be made on the day of the concert. All seating is unreserved.
* Visitors will enter the venue by the number indicated on their ticket.
* Ticket-holders may view the current exhibition IZUMI KATO – LIKE A ROLLING SNOWBALL prior to the start of the concert.
The museum will be closed between 5 and 6 pm for venue preparation.

* Reservations can be made by sending an email to event@haramuseum.or.jp.
On the subject line, please indicate "12/7 live," and state in the body your name, the number of people in your party and contact telephone number. Reservations will be confirmed by return email. If you do not hear from us within four days, please contact us to inquire.