Contents
INTERPRETATIONS, TOKYO
Dates : March 29 (Friday) – 31 (Sunday), 2019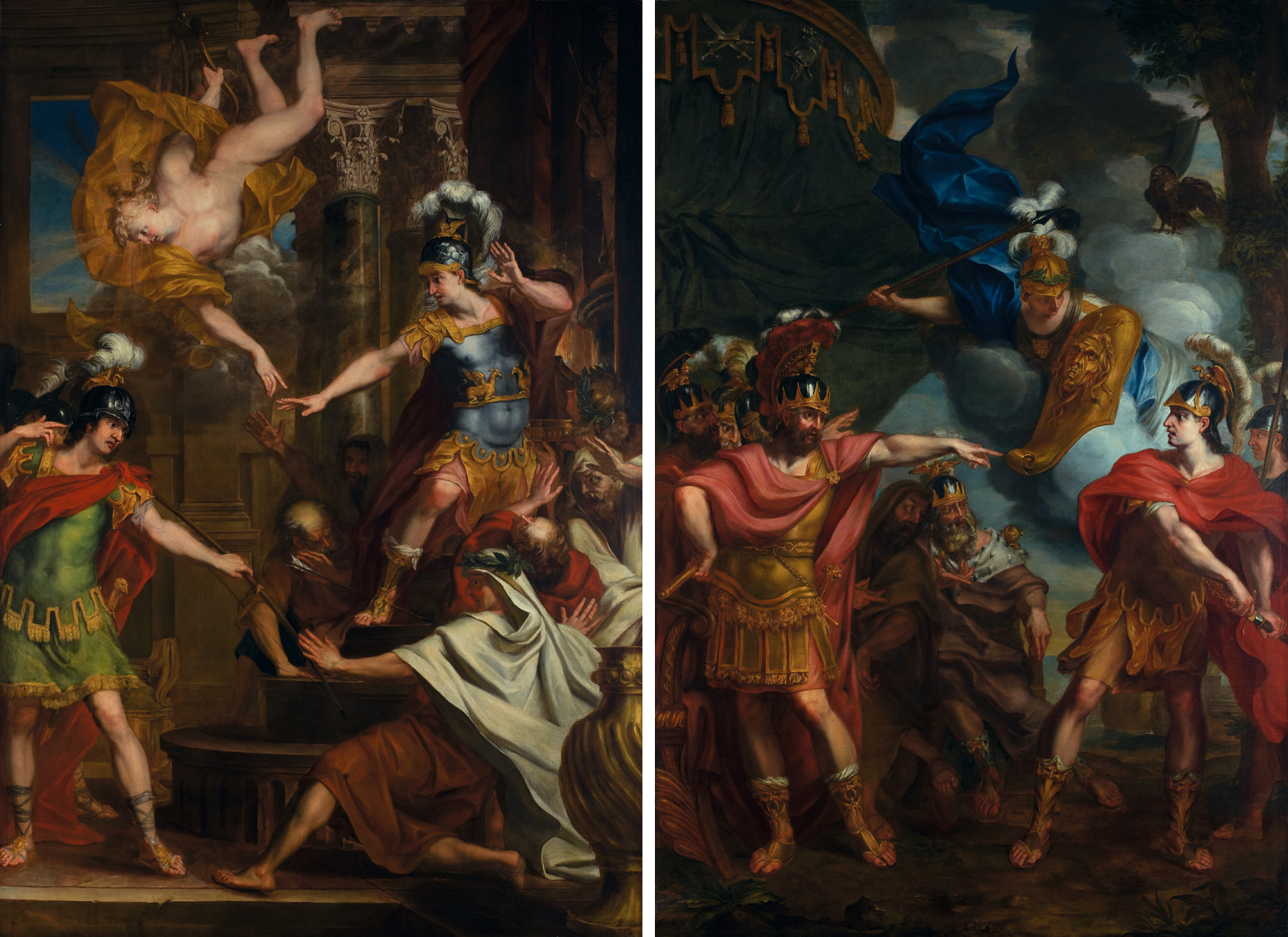 Gerard de Lairesse, "A dispute between Achilles and Agamemnon" oil on canvas, 300 x 214 cm
Gerard de Lairesse, "Paris and Apollo kill Achilles, hitting him with an arrow in his heel" oil on canvas, 300 x 214 cm
The Hara Museum of Contemporary Art and Dries Van Noten are proud to present INTERPRETATIONS, TOKYO, a limited three-day exhibition featuring paintings by Gerard de Lairesse (1640-1711), an artist who was contemporaneous with Rembrandt, and the works of six Tokyo-based artists. In this show, two large paintings by de Lairesse comprising vivid and dynamic depictions of Greek mythological themes are brought together with the works created by the Japanese artists in many styles to engage in a dialog that transcends the boundaries of time, country and medium.

The inception of this exhibition dates back ten years ago when Dries Van Noten, the fashion designer also known for his deep knowledge of art, sought to instigate a fusion of Japanese and European cultures by commissioning cutting-edge artists from Japan to create works based on an interpretation of two 17th century paintings in his collection. The artists that he chose were the painter Yuumi Domoto and photographer Mika Ninagawa.

Looking back, Ninagawa spoke of Van Noten's stipulation that the produced art be the same size as de Lairesse's paintings and monochromatic in color and how that stipulation led to the opening of a new frontier for her: the making of "monochromatic flowers." Ten years later, with the show set to appear at the Hara Museum, three more artists were asked to create work that would open up new dialogs with de Lairesse's work: Masaho Anotani, Naho Ishii and Ataru Sato. As he did ten years ago, Dries Van Noten made the final selection of artists himself.

Appearing in the exhibition are the two paintings by Lairesse that were the basis for Drie's idea, the four initial works made ten years ago and new works made specifically for the present show. We invite you to witness the various results triggered by the unique imaginations of these artists.

*Concurrent show on second floor: Selected Works from the Hara Museum Collection—Sophie Calle "Exquisite Pain" (part two).
Featured Artists

Gerard de Lairesse, Yuumi Domoto, Mika Ninagawa, Daisuke Ohba, Masaho Anotani, Naho Ishii, Ataru Sato

Dates

March 29 (Friday) – 31 (Sunday), 2019

Organized by

Hara Museum of Contemporary Art, Dries Van Noten

Cooperation provided by

Art Dynamics

Hours

11:00 am to 5:00 pm (March 31, until 8:00 pm) (last entry 30 minutes before closing)

Admission

General 1,100 yen; Students 700 yen (high school and university) or 500 yen (elementary and junior high); Free for Hara Museum members, students through high school every Saturday during the school term; 100 yen discount per person for groups of 20 or more.

Guided tour

Free Japanese-language tour will be given on Sunday, March 31, starting at 2:30 pm and lasting about 30 minutes.