Contents
Lecture Performance for Ego Obscura, Tokyo 2020
Date(s) : January 25 (Sat.), 26 (Sun.), February 22 (Sat.), 23 (Sun.), March 20 (Friday/national holiday), 21 (Sat.), April 12 (Sun.)
Time : 4:00 pm – 5:00 pm (duration: 1 hour)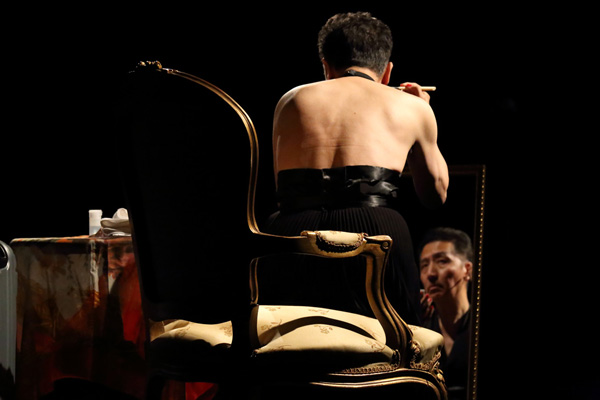 Due to the danger of contagion presented by the novel coronavirus COVID-19, we regretfully must announce the cancellation of the lecture performances scheduled for March 20 (Friday), March 21 (Saturday) and April 12 (Sunday). We request your kind understanding.

Morimura will give a lecture performance of his work Ego Obscura, Tokyo 2020.
Dates

January 25 (Sat.), 26 (Sun.), February 22 (Sat.), 23 (Sun.), March 20 (Friday/national holiday), 21 (Sat.), April 12 (Sun.)
*The performance will be held in Japanese.
*Reservations for the events have been closed.


Time

4:00 pm – 5:00 pm (duration: 1 hour)
* Please note that entry will not be allowed after the start of the lecture performance.

Venue

Gallery V at the Hara Museum of Contemporary Art

Fee

Free with museum admission
*All seating is unreserved. Entrance to the venue will be in order of the number on your ticket issued at the time of your reservation.
* The performance is limited to persons of middle-school age or older.

Seating Capacity

The seating capacity is 30 persons per performance (reservations will be given on a first-come, first-served basis).

How to reserve

Reservations can be made by sending an email to event@haramuseum.or.jp.
On the subject line, please indicate "Yasumasa Morimura Lecture Performance" and write the date of the performance, and state in the body your name, the number of people in your party (max. 2) and contact telephone number. Hara Museum members should also include their membership number. Reservations will be confirmed by return email. If you do you hear from us within four days, please contact us to inquire.

* Please note that confirmations for reservation requests received between December 25 (Wed.) and January 3 (Fri.) will be sent by email on or after January 4 (Sat.).